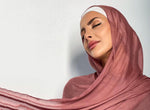 Modest Clothing Mistakes To Avoid In 2022
Modest dressing is a unique clothing style to blend modesty with fashion. Worn either due to religious commitments or as a personal preference— modest clothing has become a massive buzz during recent years.
Women can ace their fashion game and make modest dressing their go-to style statement with ease. All it requires is a sense of pairing clothes and knowing the art of dressing up modestly modest women's dresses. Various techniques, including layering and colour blocking, can be of great help when it comes to your modest fashion wear. With this, you can pull off your modest clothing without concealing your inner diva.
Mistakes to Avoid While Dressing Modestly
When it comes to modest clothing, one must be mindful of the trends they hop on. People are likely to make some grave mistakes while dressing modestly, which can lead to a significant drop in your fashion style.
So here are some of the most common mistakes women tend to commit with their modest clothing. Let's dive in and explore!
Avoid polyester dresses
Polyester dreams may be modest and within budget, and you may also think that they look great. The thing is that this feeling is temporary, and you start feeling frustrated while pulling and tugging your dress just because it's too hot.
This is one of the major drawbacks of polyester dresses- it isn't breathable fabric, which severely affects your health. Avoid choosing polyester especially during summer; instead, opt for stretch-jersey or linen fabrics that will feel comfortable on your skin.
But wait, if you are thinking swimming, polyester is a great option by the way.
Avoid inserting clothes into your outfits
You may have heard somewhere that the addition of colourful clothes in your all-black abaya or another dress may seem stunning but wait, it is not! This trend surely needs to end since the addition of clothes beneath your fabulous outfits don't level up your looks; instead, they take off their true glory.
Along with that, you also need to avoid thinking that black can go with everything. At times the addition of certain colours with black can make you look dull and childish as well! The best way to find a sophisticated look is to pair only the ones which match your overall attire.
Avoid wearing excessive prints
Keep it clean and simple!
Prints look attractive only to a limited extent. Wearing too many prints can not only decelerate your outfit but can make it look extremely dull as well. Prints paired up with plainclothes is an absolutely phenomenal combination.
However, if you add excessive prints to your attire, your look may lack a sense of professionalism. Overloading of prints may also seem a bit tacky at times. So, avoid doing that and try to stick with solid and plain clothes to balance your attire wisely.
Avoid wearing harem pants
Harem pants are materials that are excessive in the crotch and extremely tired at the ankles. This trend of wearing harem pants might not be ended soon though. You may find positive opinions by people about these harem pants, but the reality is that its fringes can make it look a little childish if not carried well.
Remember all those Disney characters - they have been wearing harem pants from the very beginning. Now you can easily relate to why these pants don't add up to your stunning looks.
Avoid bulky layering
Layering can be of great help in dressing modestly only when done correctly. Getting multiple clothing pieces together in random order can be a little daunting at times. When you pair bulky dresses and layer them one over the other, it can leave you looking like a balloon in no time.
Try styling smart, modern modest clothing in a balanced way to keep your attire on point. Go with heavy blazers and high-waist pants, or pair your floral skirts with basic cotton scarves, full-sleeved tees to tuck in. Bingo, you are ready!
Wrapping Up
With modest fashion shows and dedicated brand labels being made around the dressing style, modest clothing has gained immense popularity. People have started to recognise modest fashion all around the globe, making it a much sought-after style statement.
Shop with Urban Culture and pick your most special modest clothes from the best. Get started today!