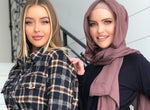 7 Modest Fashion Essentials To Stock In Your Wardrobe
Some of us think modesty and fashion are unsustainable couples. Many people struggle to feel fashion-forward while wearing modest clothing like abayas and hijabs.
However, it is a must to understand that one can look stylish in their own comfort and vibe. You can value going modest and still adhere to the latest style trends and fashion.
As many designers and consumers are now into modesty, the fashion industry has evolved and made modest dressing easier. Runways have started embracing creative layering, long silhouettes, and loose-fitting attires to help modern women look both chic and elegant.
Keeping runway trends aside, we have searched for essentials that are the backbone of a modest wardrobe. In simple words, we have found the key to modest dressing. Keep scrolling to know the modest fashion essentials.
Modest Fashion Essentials For Your Wardrobe
Beautiful Hijab Set
Are you a lover of modest fashion? A beautiful hijab set is all you need to stock in your wardrobe.
These hijab collections are perfectly made for new-age empowered women. These are the best to suit your everyday workwear or a casual outing. Along with a modest look, they offer comfort and ease of wear.
Our breathable hijab sets are luxurious and soft to touch. Choose one of these hijab sets to live your day with comfort and minimal style.
Modest casual dress
Cute and pleasant, you can wear modest casual dresses for get-togethers, special occasions, and dates. The easygoing designs and carefree feeling of a modest dress is ideal to make you feel like a true fashionista.
The collection of casual modest dresses at Urban Culture is unique and beautiful. From pretty lace details to bold prints, we've got everything to help you ace your modest fashion game. Wearing these dresses, you will feel charming and confident - shop now!
Neutral-toned jacket
Neutral-toned jackets are timeless layering options that you can wear in all seasons. These are classy and the most versatile options to create smart looks for any occasion.
Today, modest jackets and capes are available in various colours and sizes. The jackets with a drawstring and pockets on each side get you a cool look. Then there are zipper jackets - you can keep the zipper opened or closed as per your style and comfort. And then, there are long jackets that come with a hoodie for a laidback look - go through the collection of stylish modest jackets and find your favourite one!
Casual co-ord set
Co-ord sets are winning the hearts of youth. These clothing items are the best when it serves a modest look.
A casual co-ord set with lightweight ribbed fabric can be your next go-to to look smart and stylish. Our collection of co-ord sets consists of sets of crop tops and wide-leg pants. Most pants have an elasticated waist to offer extra comfort.
The one you see in the image with the Cartel printed in gold is the smartest piece of all. So comfortable, so modest, so stylish - the co-ord sets are three in one. Absolutely worth your money!
So if you are looking for a summer wardrobe upgrade, co-ord sets are the best way to dress in summer. It brings a cool and chic vibe to your wardrobe.
Printed scarves
Printed scarves are the best way to flaunt cool prints this season. You can layer your favourite print over a t-shirt and jacket, and complete the look with heeled boots and a designer bag. These small tips will make your casual outfit look glorious.
The printed scarves at Urban Culture are soft and offer a perfect finish. These are also ideal to pair with skirts and casual tops. And oh - these are so budget-friendly, so you can change the prints for a new look every time!
So what are you waiting for? Choose your favourite print from the new collection.
Elegant skirt
The skirt style is evolving with new designs and patterns. A classy printed flared maxi skirt is perfect for every modest girl's wardrobe.
Skirts are both modest and breezy, so they work best as a long day wear option. It elevates the game of fashion for modern muslimahs.
Given the versatility of the skirt, it is the top choice of most students and working women. If you are looking to incorporate a modest trend into your wardrobe, go and shop for some beautiful modest skits!
Straight leg jeans
Up your modest look with an exclusive collection of straight-leg jeans. Featuring all the classic colours like black, dark blue, light blue, and more, these straight-legged jeans will perfectly accentuate your curves and make you feel confident wherever you go.
So, all these pieces are a must-have for your wardrobe. We bet you are likely to have a big-time crush on our modest selections listed above - you can use existing wardrobe toppers, trousers and jackets with these to create a new look.
We agree that shopping as a modest wearer is not easy, but with the right ideas and the perfect stop to shop, it becomes a fun activity! Keeping this thing in mind, Urban Culture is here to make you look both trendy and modest. Our collection speaks for itself - we are proud you choose modesty, and so we are here to support you with style. Visit our store and check out the latest modest clothing online!