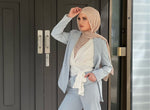 Power Dressing Tips For Boss Babes
Hey Boss Babes!
Do you find it hard to juggle between a well-tailored office suit and casual wear? Are you afraid to get creative with your wardrobe and end up wearing the same clothes to every office party or meeting?
If yes, you are in for a surprise!
Here are some modest clothing ideas and quick power dressing tips for all you busy babes who deserve an award for being a boss! The winning choice of clothing can make it easier for you to focus on your work, make an impression at business meetings, look confident, and maintain your professional image.
Smart and Modest Dressing Tips for Office Going Women
Here are some dressing tips for a professional look.
Ace Your Blazer Game
A well-tailored blazer and intelligent personality, what a combination! It is enough to get you positive points for being professional and presentable at every office meeting.
Most of us end up wearing the same, common-coloured blazers. Do not repeat this mistake. Instead, look for more trendy options. If you think black, blue, and grey are outdated colours for a blazer, give your corporate look a fresh touch by adding a nude blazer to your wardrobe.
The blazer is practically designed with two pockets to keep your frequently needed stuff handy and buttons for a close blazer look.
Pair the blazer with the same coloured high waist trouser and a light-coloured printed top. Elevate the fashion game by wearing nude-coloured heels.
This outfit will help you feel great and show the world what a boss babe you are. Go and rock, girl!
Choose Dresses with Long Sleeves
You want to look professional and confident at the same time. Therefore, long-sleeved modest dresses are the best to carry to your office. Along with providing a classy look, they offer immense comfort too. And if your long sleeve dress has a high neck pattern, you cannot find anything more perfect for your office meetings than this. Carrying this outfit, there is no need to worry about your neckline or short sleeves. You can focus totally on your work.
You do not compromise with your style. Pair the long-sleeved high neck dress with delicate, transparent strap heels to complete the look.
Who says formal wear is boring! With a little fashion sense and creativity, you can ace your office look. A high-neck long-sleeved body-fitted dress is what your wardrobe is craving!.
Befriend Pencil Skirts
Modest skirts! Don't we love wearing them?
Our fashion game reaches another level when we wear a straight-cut pencil skirt at the office. Yes, they are one of the best office wear.
Pair a wideband thick jersey polyester fabric skirt with a long sleeve plain t-shirt. Complete the look with sneakers. It will give you a professional look, maintaining your chic side while providing comfort. The interesting thing about this look is you can also use it as a casual power dressing style. Two-in one! 
You can opt for a black or light tan straight cut pencil skirt for a powered look. The colour choice can turn the game upside down.
Choose High Neck Tops
High neck tops? Ohh, let's grab them all!
Who doesn't like high neck tops, especially when you think of office wear?
We can wear it alone or pair it with a blazer; it looks perfect in every office setting.
Pair a white-coloured high neck top with a stunning light blue coloured tailored blazer and high waist trousers. Find a blazer with pockets and buttons; they will add extra oomph. The colour combination is like a breath of fresh air; be ready to receive compliments all day long.
Why go for a cliche look when you can make yourself look pretty in the formal attires too.
Layer It Up!
Are you confused about what to wear on these wintery days? Get a cashmere coat for yourself! Yes, a cashmere coat is perfect for a layered-up look.
A soft tie-up coat that keeps you warm and stylish is a winter necessity. You do not need to cover yourself with those irritating and itchy, thick fabric coats. Choose a cashmere coat for layering and get yourself warm and comfortable in a unique style.
Try a light tan colour coat to make your look more fresh and updated.
Pair your long tie-up coat with black pencil-cut jeans, a tan-coloured top, and wedges. You can make it look more fashionable with long umbrella-styled tops. All covered up, stylish, and trendy- a perfect overcoat to carry for a workday.
Go from drab to fierce at your new office job!
These are a few essential tips for dressing in the office that every woman should know. Armed with this fashion knowledge comes power. These simple power dressing tips can help you handle any tricky situation at the office and dress in a way that maintains your self-confidence.
At Urban Culture Online, we have exclusive office wear collections that will help you look modest yet stylish. Visit our website to buy the best office wear for you.